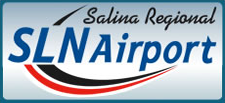 Salina Regional Airport
Salina Regional Airport has a primary runway at 12,300 feet with ample aircraft parking. The Salina Regional Airport is the home base for a wide variety of businesses and operations. These include:
Civil Air Patrol -- Kansas Wing Headquarters
Federal Aviation Administration, ASFSO
Kansas Army National Guard Aviation Support Facility
Kansas Highway Patrol Aviation
Professional Flight Training, LC
Salina Aircraft Services
The Airport's world-class FBO, Avflight Salina, annually delivers aviation fuel to thousands of business jets and military aircraft. This has earned Salina the moniker, "America's Fuel Stop." The air traffic control tower is busy during the year with aircraft operations exceeding 90,000.